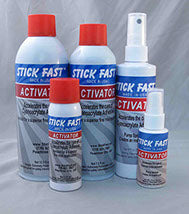 Stick Fast CA Activator - 7.5 oz
Stick Fast CA Activator
Key Features
Aerosol- accelerates bond, apply directly on CA to accelerate cure
Accelerate cure when CA applied to highly acidic surfaces
Aerosol Activator provides a fine mist and uses a solvent that affects plastics but will evaporate quicker which will affect the appearance of the CA less
Note: Using too much activator may cause the CA to 'boil' and reduce the bond strength. Unwanted whitening or bubbles may appear. Aerosol application SOLVES this problem by reducing the chance of over application.